That bouncy, fluffy, post-salon hair often seems like an art that only a professional can master. This is why trips to the salon are much-coveted, to achieve that undeniably good hair day and accompanying aura of confidence. However, why should it be left to appointments to promise this? It is, in fact, possible to give your hair more volume from the comfort of your own home.
Keep reading for Christophe Robin's guide with the top advice on how to give your hair more volume.
How to add volume to fine hair
How to add volume to fine hair seems to be a mission on its own. Fine hair has the advantage that it is easy to maintain and style. However, unfortunately, it tends to fall flat without the proper technique and products.
Leave the back-combing and hairspray to one side for a moment. The way how to add volume to fine hair starts in the shower with a root-lifting shampoo and conditioner. Having said this, fine strands can easily become weighed down, which is the fault of many dense volume-promising products. For fine hair, it's important to find formulas that are as equally lifting as they are lightweight. For example, Christophe Robin's nourishing, gel-textured shampoo boosts volume as it gently cleanses, bringing instant body to thin, flat or fine-looking hair. It adds visible fullness, so hair appears denser and feels thicker.
Once the shampoo has been rinsed, the next step is conditioning. Christophe Robin's key piece of advice is to only apply the conditioner to the lengths and ends of your hair. While it may be tempting to lather the product all over, applying conditioner to the roots can create that heavy feeling of build-up in the scalp.
How to give hair volume at roots
Once clean and prepped, it's time to give hair volume at the roots. This can be done by applying a mist to the roots and lengths of damp hair. Christophe Robin's Instant Volumising Leave-in Mist with Rose Water can also be used on dry hair as a touch-up throughout the day.
When it comes to styling, consider the following tips to give hair volume at the roots:
Change up the normal position of your parting to create instant volume at the crown – side partings offer an instant appearance of fullness.
Blow-dry hair upside down, against the direction of hair growth, for added bounce. Flip your hair and blast with heat until it's ¾ dry, then smooth and perfect your style as normal.
Twist your strands up into a ballerina bun to give hair volume at the roots while you sleep. Consider investing in a silk scrunchie to protect against breakage.
How to make curly hair have more volume
How to make curly hair have more volume can be more of a complex matter. On one hand, blasting the hair dryer after showering simply isn't an option for delicate, curly strands. On the other, air drying can pull the curls down and make them lose their shape and bounce. That's why the curly hair drying method called 'plopping' has come to light. This heatless drying technique involves wrapping the hair into a micro-fibre towel to air-dry curls. For a step-by-step guide, take a look at How to Plop Your Hair.
What are the best hair products for volume?
Finally, we have the best hair products for volume.
Christophe Robin's volumising ritual is a 3-step routine has been expertly formulated to tackle flatness and lacklustre and ultimately give the hair more volume. Miracles of nature famed for their strand-plumping properties work together in harmony to inject fullness from the very first use, while a noticeable boost continues to build day after day.
There's a good reason why the cleansing volumising paste with rose extracts has been crowned the winner of multiple beauty awards. Tatler, Glamour and InStyle all recognise the innovative paste-to-foam formula's ability to transform even the finest, flattest-looking hair. With its unique emulsifying texture, the cleanser instantly boosts roots while building strand density day after day – for gravity-defying volume that lasts.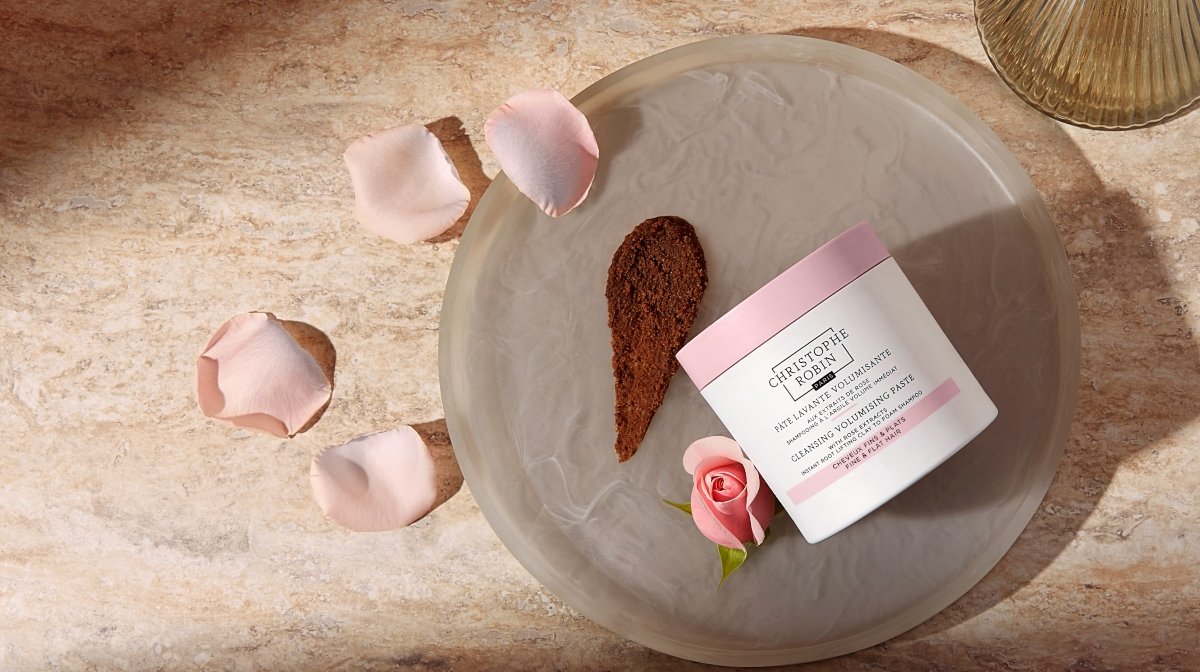 Celebrated natural origin ingredients work together in harmony to give the hair more volume as well as improved fullness, strength and vitality:
Centifolia rose water, known as the 'Rose of a Hundred Leaves', hydrates and soothes
Mineral-rich Moroccan Rassoul clay, famed for its use in the time-honoured Hammam ritual, absorbs impurities and rebalances the scalp while preserving the hair's protective cuticle layer
Antioxidant-rich Limnanthes seed oil extract reinforces colour intensity and preserves shine
Baobab leaf extract repairs, nourishes and protects
Just like a shampoo, the cult hero has been developed for use on wet hair as one of the best hair products for volume. Once or twice a week, rub a tablespoon of product between your palms and apply all over in delicate circular motions. Lift hair at the roots and enjoy a moment of blissful wellbeing as you feel the paste turn to a light foam. Add water to emulsify, then rinse thoroughly.
Part Two: The Volume Shampoo and Conditioner Duo
As mentioned, this duo is gentle enough for daily use and perfect to be used in alternation with the cleansing volumising paste to add bounce and body as it cleanses and conditions. With the shampoo's cuticle-sealing acidic pH, and the conditioners creamy yet air-light formulas, the result is soft, bouncy hair with beautiful natural volume.
Part Three: The Volumising Leave-in Mist
Completing the ritual of the best products for volume, the instantly enhancing leave-in mist with rose water is a decadent finishing touch offering lasting natural hold and instant root lift minus crunchiness. With a weightless texture as light as a rose petal, the leave-in mist densifies strands as it envelops hair in a sensual scent with feminine floral notes. Apply to damp or dry hair, focusing on the roots, and delicately massage.
Shop This Post: