There are times when it seems like a visit to the salon is the only way to redeem the hair. When time, effort, and masks are put into the strands to no avail, what other options remain? In fact, the multitudes of conditioners and treatments can even appear to worsen the dull, lifeless situation of the tresses. However, it is possible to revive the hair in the comfort of your own home. The key is to divert your attention away from adding to it, and instead, learn how to use a hair scrub. Like everything, our strands and scalp need a reset every so often in order to thrive. They need to be purified to retain that light, airy bounce and natural shine.
But what exactly is a hair scrub? As of yet, there's little discussion surrounding this recent addition to the haircare world. Here's Christophe Robin's guide on how to use a hair scrub and everything to know about this secret step to luscious strands.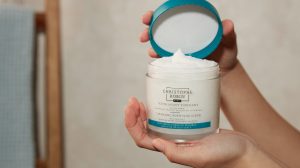 What is a hair scrub?
To begin, what is a hair scrub? Put simply, a hair scrub is the often forgotten-about key to a fresh scalp and nourished strands.
As products, oils, and serums are left in the hair, they eventually accumulate to cause build-up. It's inevitable after some time, and can appear as the following:
Dull, dry strands- Natural sebum excretes from the hair's follicles to provide shine and moisture. When the follicles become blocked from build-up, the sebum gets trapped at the root, restricting the hair from its potential silky gloss and hydration.
Flakes and irritation- Build-up can cause an irritated, red scalp. White flakes may also be noticeable.
Heaviness- If the hair is feeling heavy at the roots after washes, the issue may be the accumulation of excess product and debris that needs to be cleansed away.
From this, it is evident that a hair scrub plays an essential part in maintaining hair health. It helps to purify the roots and sweep the scalp and strands clear of build-up and in doing so, clears the pathways for the hair follicles. This helps to promote optimal hair growth and also allows the natural sebum to spread along the strands to provide its silky sheen.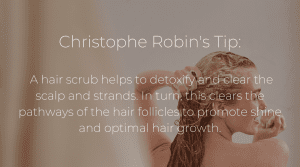 How to use a Christophe Robin Hair Scrub
Now that what a hair scrub is has been established, the next question to tackle is how to use a scalp scrub. How to use a Christophe Robin hair scrub, for example, is simple. To gently exfoliate daily build-up, all that is required is to add a delicately exfoliating scalp and hair scrub as part of your haircare regimen as little as once a week.
This can be Christophe Robin's Cleansing Purifying Scrub which contains Sea Salt to gently remove the build-up from the hair and scalp while Bisabolol, extracted from the Brazilian Candeia tree, helps to soothe as it cleanses. The exfoliating and soothing properties of these natural ingredients help the scalp to feel rebalanced and purified, leaving the hair looking salon-fresh and shiny. There are two ways how to use this scalp scrub, the first is as a precursor to shampooing and the second is as a shampoo itself which works wonderfully for a deeper cleanse. Once a week apply a tablespoon of product onto wet hair. Gently massage into the scalp, including the nape of the neck, and emulsify.