Looking for natural, high-performance formulas with the added bonus of anti-pollution protection? Discover the powerful ingredients behind Christophe Robin's NEW

anti-pollution

haircare.
Elevate the everyday with Christophe Robin's latest editions to the purifying range, formulated to wash away pollutants and impurities. Both natural hair products draw strength from the sea and work together in harmony to care for stressed scalps and dry lengths. Read on to discover how to protect hair from pollution with natural ingredients, such as Thermal Mud, Spirulina and Sea Minerals. The result? A rebalanced, detoxified scalp and beautifully hydrated hair. 
Can pollution damage hair?
Pollution has long been considered in the skincare industry to dehydrate, sensitise and premature age skin. Research findings show that there is a link between increased hair damage and increasing concentrations of pollutants when exposed to UV light. Sadly, both pollutants and UV can cause the scalp to experience sensitivity and discomfort, dryness or oiliness. 
When scalps are stressed, it can lead to unhealthy consequences for the overall condition of hair. Since the launch of the coveted Cleansing Purifying Scrub with Sea Salt in 2013, Christophe Robin has pioneered a revolutionary approach to haircare – promoting the often-neglected scalp's vital role in achieving healthy, beautiful hair.
Does air pollution make your hair greasy?
If your hair is looking oily shortly after you have washed it, it could point to signs that you have an unhappy scalp environment. A stressed scalp shows signs through oily roots and dry ends, highlighting that the skin barrier function is unbalanced. To protect hair from pollution and sebum build up, look for natural hair products that draw out impurities and refresh scalps.
Does air pollution cause hair loss?
Pollution and outside aggressors' build up on the scalp and may cause damage to the hair fibre. These pollutants can stress the scalp and lead to hair breakage, resulting in hair loss. Additionally, a study in 2019 found that common air pollutants reduce the amount of protein in hair follicle cells that fuel hair growth. How to protect hair from pollution? Look for natural hair products that shield and revitalise the skin barrier function to improve its ability to defend against external aggressors.
What are hair pollutants?
Living in a busy, populated city means you are exposed to a daily occurrence of pollutants. With the air quality being filled with environmental pollution, it's not surprising that it can build up on the hair. Hair pollutants can come from both indoor and outdoor pollutants.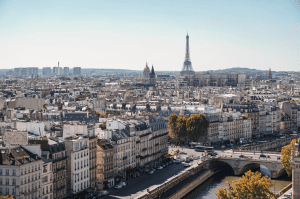 To protect hair from indoor pollution, it's important to regularly ventilate your home to remove indoor pollutants and build up moisture. To limit the damage of outdoor pollution, search for anti-pollution hair care that contains natural ingredients that are gentle to scalps and remove outside impurities.
OUTDOOR POLLUTANTS
Motor vehicle emissions

Solid fuel burning

Smoke from bushfires

Windblown dust

Pollen and Mould spores
INDOOR POLLUTANTS
Cigarette smoke

Gas heaters

Wood heaters

Damp and Mould
How to Protect Hair from Pollution
with Christophe Robin
Purifying Mask with Thermal Mud
The mineral mud hair mask is a pre-wash treatment that offers a blissful sensorial experience with its spa-like mousse texture. Looking to draw out impurities and pollution build up? The anti pollution hair care mask will revitalise the skin barrier and improve its ability to defend against external aggressors. The result? The scalp is soothed, roots are refreshed and hair is healthy-looking, soft and shiny.
NATURAL ANTI POLLUTION HAIR CARE INGREDIENTS

THERMAL MUD
The purifying mask contains thermal mud harvested from the Mediterranean coast, a natural ingredient that is highly concentrated in sulphur: a mineral known for its power to rebalance the scalp's microbiome.
SPIRULINA
The detoxifying mask features Spirulina, often referred to as the 'superfood of the sea' thanks to its beneficial nutrients including Niacinamide. Niacinamide is known to boost the skin barrier function by increasing ceramide production. 
DEEP SEA MINERAL COMPLEX
The mineral mud hair mask harnesses the power of a magnesium-rich Deep Sea Mineral Complex: a pure concentration of deep-sea water from the Irish Sea. The natural ingredient helps to shield against external aggressors for healthier-looking hair and increased moisture content. 
DEEP SEA RED ALGAE COMPLEX
To take the utmost care of lengths, the formula contains a sea moss from La Bretagne in France – to smooth cuticles and condition the hair fibre. This gives the scalp a 'second skin' effect that helps to retain moisture. 
APPLY TO DAMP HAIR
Once a week, or as a quick-fix refresher treatment, dampen hair and massage the product onto the scalp and roots. Leave on for 3 minutes before rinsing thoroughly.
APPLY TO DRY HAIR
For a more intensive detox, smooth generously through dry hair from root to tip, leave on to penetrate for 15 minutes, and rinse thoroughly.