Brushing the hair is an essential step to looking put together. Like scrubbing the teeth or washing the face, running the hairbrush through your strands is a part of every day life. Yet, toothbrushes and face-clothes are given a different treatment. The paste is rinsed out of the bristles and the cloth is tossed into the wash-basket. They are kept clean, as it would be unhygienic to use anything else on our mouths and faces. However, for some reason cleaning the hairbrush has been overlooked in the past. In fact, it's not often taught how to give your hairbrush that same care and maintenance.
This is how to clean your hairbrushes.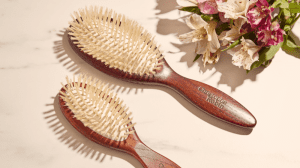 Do I need to clean my hairbrush?
A quick brush of the ends instantly achieves a polished look, which is why hairbrushes are relied upon so heavily. They're shoved into bags, carried around all day, and used on repeat. Now consider the amount of dust and dirt that the hairbrush can pick up throughout it's travels. According to Glamour UK, a report carried out by the University of Arizona found that "hairbrushes are the worst breeding ground for bacteria, housing even more than a plughole or a dog bowl." So why is it that how to clean hairbrushes is rarely discussed?
On those dry-shampoo days, the hairbrush runs from the root to the tips, collecting the excess oil plus the product being used to conceal it. Now, skip forward to the wash day. After cleansing the scalp with a Purifying Scrub and nourishing the strands with a Purifying Shampoo with Thermal Mud, re-using the same brush will only deposit the bacteria collected previously back into the refreshed, detoxified hair.