Introducing Christophe Robin temporary colour gels for colouration.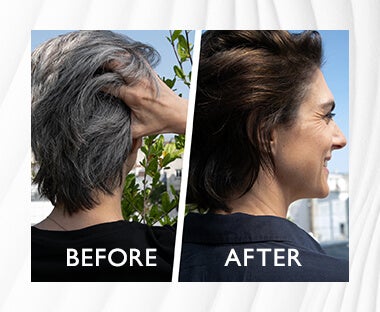 The Torment of Greys
Men and women want to cover their grays without changing their natural hair color or texture and even more so, avoid the root effect.
When hair color meets freedom


FAQs:
This colour gel is perfect if:
You have your first grays and have never covered your grays or natural hair.

You are sensitive or allergic to oxidation dyes and wish to cover your grays thanks to a gentle and non-aggressive option.

You are a man and wish to cover your grays in a subtle way, without helmet effect, unwanted shades or root effect. (do not suggest the golden blonde for men)

You would like to stop using oxidation dyes: it is necessary to eliminate all the oxiydation dye by letting your hair grow back to their natural color before using the temporary color gel.
The line is composed of 4 universal shades. They blend perfectly with the natural base of your hair. Choose the shade that would be closest to your natural hair color for an optimal result.
If you hesitate between two shades, pick the lighter one.

This gentle formulation with no oxidants or ammonia immediately covers grays naturally, however it does not allow hair to go lighter.
If you want your blonde to be neutral, cool or ashy: the Golden blonde shade, with warm tones, is not recommended.
If you wish to transform your grays into a subtle balayage, choose a shade that is lighter than your natural base. The result will be a luminous coverage with some transparency.
The temporary color gel is a "direct hair color".
Direct hair color and vegetal color are similar in that neither follows a chemical process to color hair. Color pigments simply grab around the hair fiber. The main difference resides in the types of pigments used and their hold.
In the case of vegetal hair color, pigments are completely vegetal, hence usually henna and indigo mixed with hot water (Warning: whenever you have to mix pigments with something other than water, this indicates the presence of an alkaline agent or a light oxidant in the formulation). The hold is usually permanent, hence this hair color cannot be removed or lightened, you simply have to wait for your hair to grow back in order to go back to your natural hair color.
In a direct hair color, pigments are not plant-based. The advantage here is that there is more precision in the way the pigments hold onto the hair fiber. It fades shampoo after shampoo to avoid any root effect or disgraceful shades.
The Temporary color gel follows the same process as direct hair color, meaning that the pigments simply coat the hair fiber. No chemical process is used for this hair color.

It has been dermatologically tested on 140 people with sensitive scalp. None of them experienced clinical signs or uncomfortable sensations. The product has also been tested in a large-scale test consisting of 270 people who identify as having a sensitive scalp. 94% stated that the product did not irritate the scalp or skin.

As the formula is concentrated in oats, known for its protective and antioxidant properties, the color gel suits even the most sensitive scalps.

Henna creates a barrier around the hair fiber and prevents color pigment hold. The efficiency of the Temporary color gel can be affected.

Straightening treatments can create a barrier around the hair fiber which might alter the way color pigments grab onto the hair. The efficiency of the Temporary color gel can be affected.
Before starting, wear an old t-shirt that will become your dedicated hair color shirt.
Once you have towel-dried and detangled your hair, apply a moisturizing cream or my intense regenerating balm around your face to avoid stains, this will create a protective barrier.
Once the application is done, remove your gloves and rinse them immediately so you can use them again next time.

After the first application, you can keep the temporary color gel for 3 months. You should simply close it with the little cap provided until the next use.
My advice to easily target sparse grays (dry hair, applicator brush...): if you only have a few grays and wish to cover them with precision thanks to the applicator brush, you can completely dry your hair (after washing them with a silicone-free shampoo) and apply the color gel onto your dry hair. This does not change the leave-in time: 40 minutes.

My advice to save time: if you apply the color gel only on your roots or very targeted areas, make sure to apply a nourishing mask on your lengths in order to protect your hair from the pigments and give your hair some well-deserved care during the color gel leave-in time.

If you have very thick hair, you can leave the Temporary color gel on for 50 minutes.

Use a shampoo with no silicones for a stronger hold of color pigments. We recommend the Brightening Shampoo with Camomile and Cornflower or the Hydrating Shampoo with Aloe Vera.
Our partnering salons offer this temporary color service in their locations. You can enjoy the opportunity to discover this new production the hands–and with the advice–of experts.
To extend the hold of the temporary color gel, it is recommended to:
Use a low detergent shampoo with an acidic pH to seal the cuticle of the hair which will effectively preserve the color pigments. The Cleansing Mask with Lemon, or The Color Fixator with Wheat Germ Shampoo and Mask are your best allies.
Use The Hydrating Mist with Aloe Vera and The Anti Frizz Rescue Milk after rinsing the temporary color gel as daily maintenance; These products will help maintain a vibrant color thanks to its acidic pH and Its concentration of moringa acts like a shield against pollution, and color oxidation.
We recommend consulting your general medical practitioner. All the ingredients are listed on our packaging.
Rinsed out correctly, the Temporary Color Gel should not leave stains on your scalp. If you are noticing stains use a gentle shampoo, emulsify the product while massaging the scalp.
Next time you use the temporary color gel, emulsify the product before rinsing it.
The color will fade shampoo after shampoo.
Unfortunately, we do not have a shade for redheads yet, but the Golden blonde shade is ideal for strawberry blondes.
It may be due to the presence of silicones (coming from shampoos, masks or styling products) on your hair. They prevent the pigments from grabbing the hair fiber. It is recommended to wash your hair with a silicone-free shampoo before applying the Temporary color gel.

If your hair is very thick, leave the temporary color gel for 50 minutes.